Perspective
The 2023 Supply Surge results are in!
September 18, 2023
by PEMCO Insurance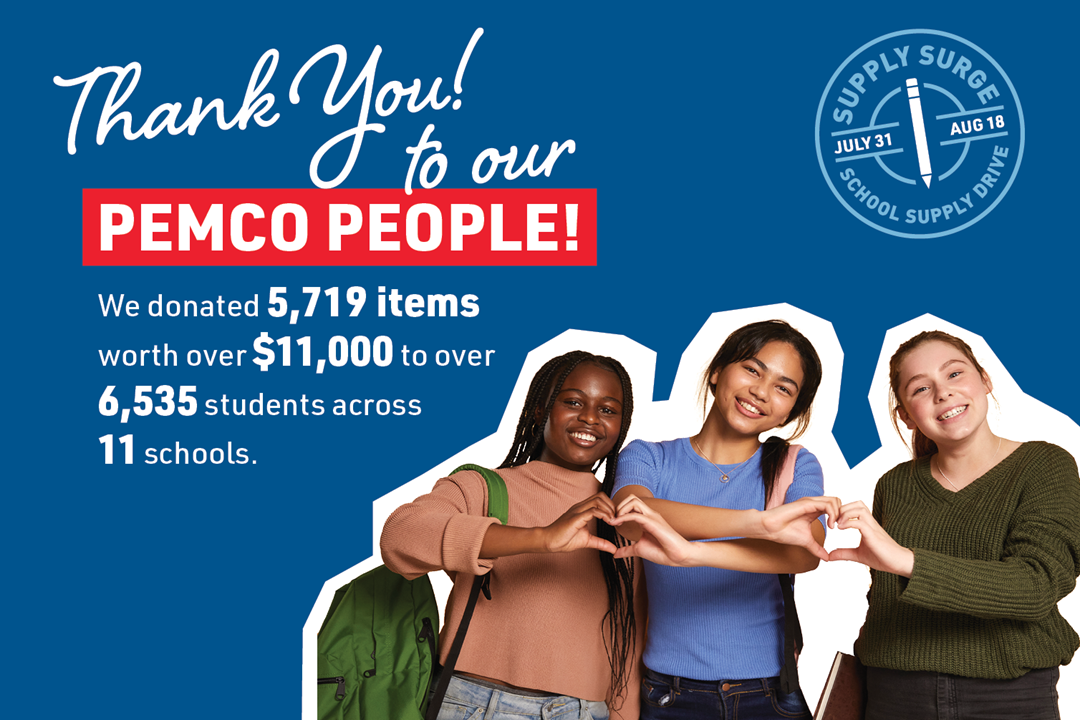 We're excited to provide a recap of this year's Supply Surge, our annual school supply drive that supports local youth. Once again, our employees, customers, and community showed up for local students who need our help the most. Our collective effort creates meaningful support during a time when economic challenges are impacting families, students, and their back-to-school preparations.
The results are in!
We came together to fuse our strengths to do more, for more. Employees, customers, and the community came together to think big and act local in support of 11 employee-nominated elementary, middle, and high schools with the highest need. These schools support over 6,500 students in five counties across Washington.

The collective #SupplySurge stats are impactful. After tallying donations, including a match from PEMCO Foundation, over 5,700 items were collected, valued at $11,191. Wow!

Equipping our students. Through this effort we collected 375 packages of pencils, 125 backpacks, 848 packages of folders, 204 boxes of crayons, calculators, flash drives, rulers, and more! What an awesome way to help students start their school year equipped and empowered.
Lasting impact
These supplies go a long way in closing the opportunity gap for youth in our communities. Something that we might view as a simple item—like a backpack or scientific calculator—can actually be the difference in whether or not a student shows up to school. By ensuring they have what they need, we're enabling our students most in need to worry less and stay on the path to graduation.
Over the past six years, Supply Surge has provided over 780,000 supplies to 60,000+ students in our Seattle, Spokane, and Portland communities. Learn more about the benefiting schools in our Supply Surge launch story.
Gratitude
Thank you for being a PEMCO member and helping us make a difference in our local communities. If you're a member who participated in #SupplySurge this year by donating items or sharing with your network—THANK YOU. Thank you for being a force for good and helping to empower students this fall and beyond.

As always, we are better together.