Perspective
Could summer remodeling leave you underinsured?
July 23, 2019
by PEMCO Insurance
​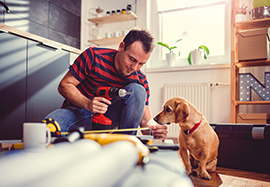 Maybe it's the HGTV effect. Maybe rising home prices have made us less likely to move. Whatever the reason, we're remodeling our homes more than ever before. Last year, spending on home remodeling climbed almost 17% over the previous year's total.
All that shiny new quartz and hardwood could leave a lot of people underinsured. An estimated one-third of homeowners forget to call their insurance companies after a remodeling project.

Almost all homes start out with the right amount of insurance. However, they can become underinsured if homeowners don't update their policies when they:

Remodel, add or expand rooms
Finish a basement or add a porch or deck
Upgrade from vinyl floors to hardwoods, laminate counters to quartz or replace appliances with high-end models. (That's especially important for condo owners. While original appliances and surfaces usually are covered by the condominium association master policy, replacements aren't.)
Pave a driveway or build a fence, detached garage or gazebo.

If you're wondering if your policy could be falling short, check the "Coverage A" amount found on your latest renewal. If it seems too low or you're just not sure, call your local PEMCO agent or 1-800-GO-PEMCO for a complimentary review. While no one knows your home better than you do, you definitely don't have to go it alone when determining the right amount of coverage.

One more way PEMCO helps you worry less

Inflation and rising construction costs can impact how much you'd have to pay to rebuild your home after a disaster. But you don't have to keep track! PEMCO automatically adjusts coverage each year to follow the local construction industry's pricing for labor, materials and debris removal.