Perspective
The 2023 Supply Surge is underway | PEMCO
July 30, 2023
by PEMCO Insurance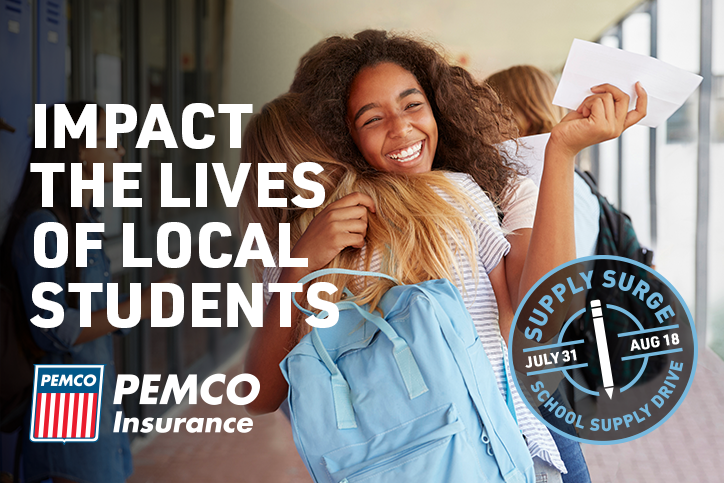 PEMCO's annual school supply drive is back in 2023! We're excited for the opportunity to support local students and encourage our community partners (that's you!) to join us. Together, we can make a difference in the lives of students in the Pacific Northwest.
What is Supply Surge?
For the past six years, PEMCO has been proud to sponsor Supply Surge—a school supply drive that benefits local schools and PNW students. This supports our Mutual Good focus area of Youth and Education.

While Supply Surge has looked different over the years, this year, we are supporting local schools that have been nominated by our employees. After a nomination period, 11 schools have been selected to receive online donations from the drive.
Donations will be raised virtually via an online portal from July 31 – August 18.

We'd be honored to partner with you and encourage you to join in on the efforts. Together, we can do more, for more.
How can I be a part of Supply Surge?
If you'd like to participate in this year's school supply drive, you can donate directly via the links below. If you see a school in your community, feel free to share the donation link and activate your network! After all, we're better together.
To see an overview of all the schools, view the main Supply Surge landing page.
For the first and last three days of Supply Surge, the PEMCO Foundation will match all donations made (up to $5,000 each time) so your impact will be doubled!
Supporting Supply Surge means we're providing local students with the resources they need to succeed throughout the school year. You'll see items like backpacks, binders, notebooks, pens, pencils, and calculators on the online shopping lists.
We're helping students start their year off on the right foot—equipped not only with the supplies they need, but also the encouragement and the confidence. As a PEMCO member, you can help us make that impact.
We hope you will join with us to support our communities and local students. We're better together.