Articles
Traveling with your pet – 12 tips for a safe, enjoyable trip
June 8, 2022
by PEMCO Insurance
Traveling with pets can make or break a family vacation. Pets add enjoyment simply by being with us – but a sick, anxious or unruly pet can dampen the mood, whether you're on a road trip or cross-country flight. Here are 12 ways to make sure you and your pet enjoy safe and happy travels.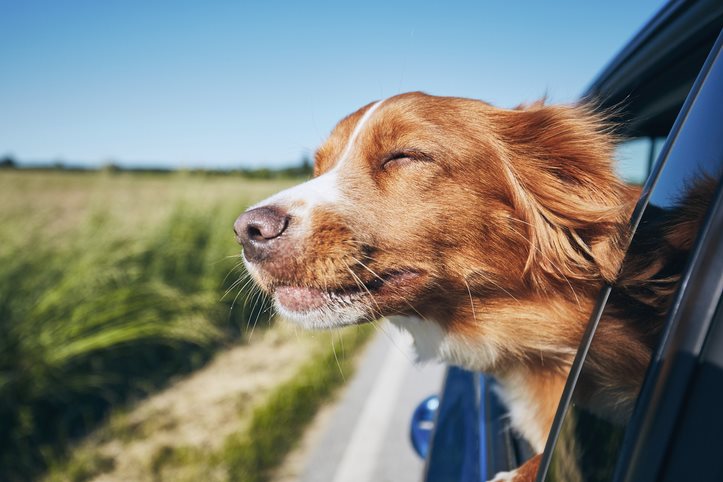 How can I make car travel easier for my pet?
Take your pet on a test drive. If your pet hasn't ridden in the car much (or only associates it with visits to the vet) drive your pet around to desensitize them before the trip. Pleasant associations with car travel will go a long way toward minimizing nervous accidents or excessive barking or meowing once you're underway.
Don't feed your pet right before the trip. You'll reduce accidents and motion sickness (yes, pets get it, too!). Do take a favorite blanket and, for dogs, a chew toy for the crate. The blanket provides comfort, while chew toys help alleviate stress and boredom that can lead to agitated barking.
Give your pet plenty of exercise before the trip. A vigorous walk or chase game with a feather wand can help burn off energy and encourage your pet to nap their way to your destination.
Buckle in your pet's carrier. Don't just set it on the seat. You also can use a harness (never a collar) that attaches to your car's rear seat belt. For cats and miniature dog breeds, a booster seat improves the harness's effectiveness. As tough as it is, resist those pleading eyes, begging you to ride on your lap. It can create a dangerous situation for both of you. In a 30-mph crash, a 60-pound dog can slam into the dashboard (or you) with 2,700 pounds of force!
Remember, the backseat is best. This is true for kids and pets

– y

our pet faces the same injury dangers from front airbags as a small child. If you're using a harness instead of a carrier, the backseat is a must.
Roll up the windows. If you're using a harness, don't allow your dog to put its head out the window. It can suffer injuries from flying road debris (even insects can seriously hurt a dog's eyes). They also can develop respiratory trouble from having cold air forced into their lungs.
Put an ID tag on your pet. It takes just seconds for a frightened pet to bolt from a car. An ID tag with your cell phone number improves your chances of being reunited quickly.
How can I make air travel easier for my pet?
Verify requirements for vaccines and health certificates. Two months before your trip, check with your airline, landing destination and even hotel. The two-month time frame will allow you to schedule appointments with your veterinarian, if needed. Health certifications often must be dated within 10 days of your departure. Carry paper documents to verify you've met all requirements, in addition to keeping photos on your phone.
Verify that your pet's breed isn't on a restricted list. Some airlines don't allow certain dog breeds to fly, out of concern about aggression. Others ban "flat-face" breeds (pugs, Persian cats) because they're prone to respiratory distress and heat stroke in the air.
Choose non-stop, direct flights if possible. That minimizes the chance your pet could be left unattended or even lost during plane changes.
Invest in a USDA-approved shipping crate if your pet must ride in the cargo area. Mark it with the words "live animal" and tag it with your contact information (including your final destination) and a picture of your pet. Securely tape a bag of food to the outside in case airline personnel need to feed your pet during an unexpected layover. Also for that reason, don't padlock the cage, but close it securely with a plastic zip tie that could be cut if needed to open the carrier in case of an emergency.
Ask airline personnel to check on your pet in case of a delay. Deplaning may be warranted, depending on the length of the delay.
Another peace-of-mind choice, no matter how you travel? Pet insurance. PEMCO recently partnered with Pets Best Insurance Services to give PEMCO members a 5% discount on pet insurance. You can choose different levels of protection for different pets, and policies can include coverage for accidents, illnesses and wellness care. Plans start at $10 or less per month and can reimburse up to 90% of eligible veterinary care costs, minus your deductible.